April 1, 2020 | Category : News, Premium Concept, | Tags: design, laundromat, speed queen

Speed Queen stores have just released a new premium design for its Self-Service Concept. The Speed Queen Laundry in Rome has already benefited from this new design. In this article, we explain how our experts designed the laundry to offer clients state of art of comfort, technology and hygiene.
Designed by experts up to the last detail
The purpose of this new idea? To create a premium and convenient environment, tailored for Speed Queen laundromats. The goal is not just to improve the lighting or the color. We wanted this design to last and to feel modern for a long period of time… and ultimately, increase the power to attract customers and increase revenues.
Speed Queen Stores are designed by experts, every detail is important:
The innovative panelling system that covers all surfaces of the store is a tailored made solution with a composite material of aluminum and polyethylene. It offers several advantages to the owner: elegance, ease of cleaning, flexibility, modularity and durability. Flexibility is maybe the most interesting feature, because it allows for equipment expansion in a few hours without any damage to the store, which occurs with obsolete dry wall solutions. With the panelling system, Speed Queen Stores can fit in variety of space, i.e. fashion stores.
New tables, chairs and sofas are designed to offer comfort but, at the same time, ease of cleaning and incomparable elegance.
The indoor instruction system

has been revolutionized and simplified to make it easy for all customers to get the wash they want. Three panels with general information and price list, washing and drying instructions streamline use.
The

black ceiling

and a completely

redesigned lighting system give the laundry a unique touch of elegance and functionality.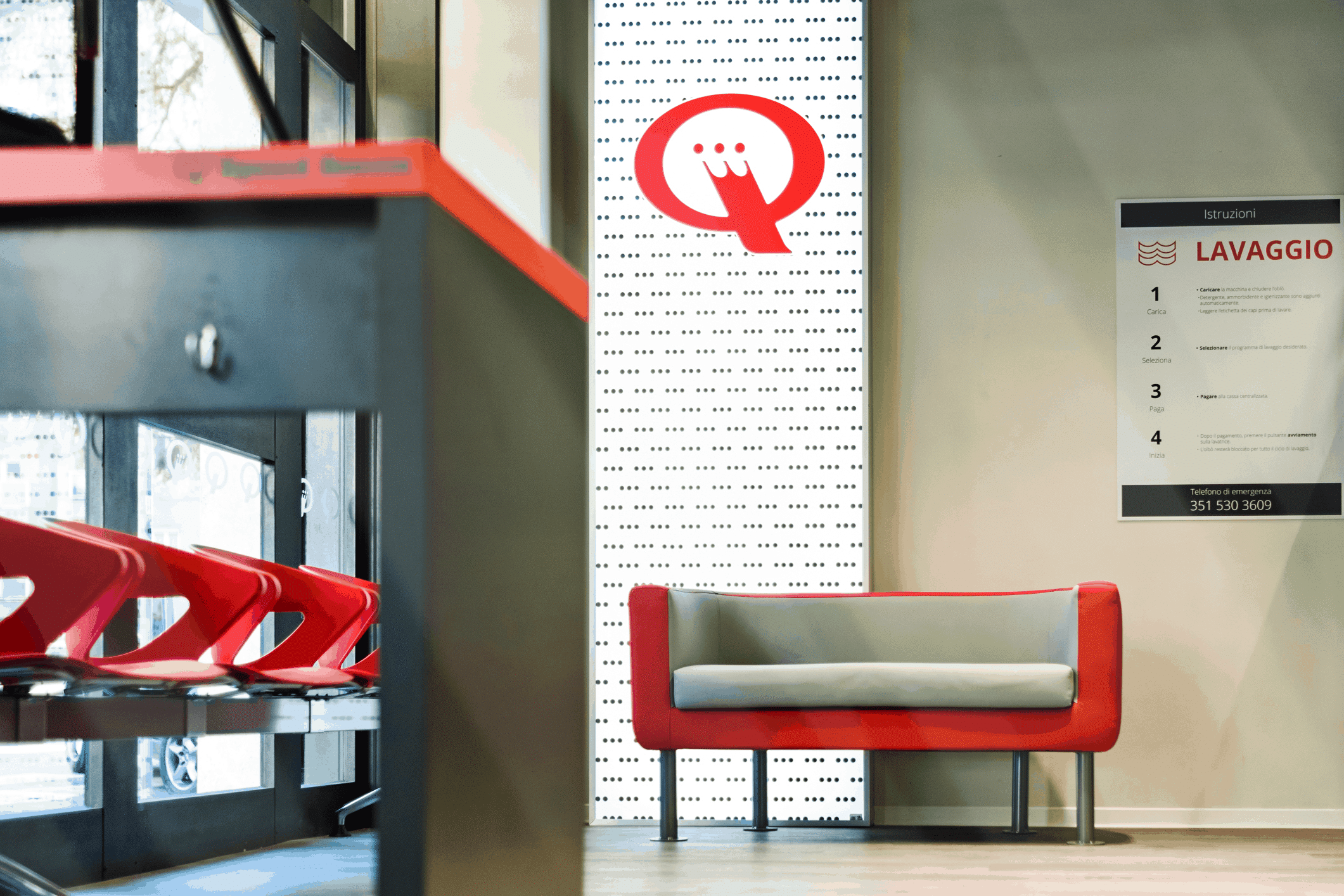 The best quality and convenience
Speed Queen is well known for the quality of its washing and drying machines. We want to create an integrated system to surround your customer with elegance and technology. If our machines are built to last, our stores last longer.
Lighting: The lighting is a fundamental component of a store. It must be bright enough to guarantee safety and visibility but also warm and relaxing. The new spot lights placed on top of the machines guarantee an excellent degree of visibility and make the store appealing.

The new Speed Queen store offers a relaxing experience. It is a cozy, intimate and a calm place, where the warm lights on the ceiling are perfect for relaxing or to reading.
Speed Queen laundromats also have new furniture that encourages the customer to sit down and have a good time. This new layout creates two distinct spaces: a washing/drying area and a relaxing living room. The modern sofas and chairs are crucially important to make the space welcoming.
Reliable touch screen washing machines: Laundry professionals rely on us because we make the best washers in the world, so investing in a Speed Queen laundromat is a good long-term asset. Our new Quantum Touch series also provide multilanguage and touchscreen controls, so using our washers and dryers is now easier than ever.
The best for customers
Let us remind you why it is better to wash clothes with our machines:
Firs, Speed Queen machines take care of textile fibers and minimize the ecological footprint of the washing cycle. We found the perfect balance between performance and savings.
The capacity of our industrial machines (ranging from 8 to 24 kg) allows your customers to do all their laundry in one go.
The interface on the washing machines has been simplified to make the user experience easier and more satisfying. It is more user-friendly than ever.
The best for our investors
Why should you consider opening your own Speed Queen laundromat?
Our washing machines are built with stainless steel and can handle up to 20 kg of textiles, including large items like carpets.

Tireless machines: Speed Queen builds the world's most reliable washing machines. The heavy-duty washer-extractors and dryers are built to last, and require very little maintenance.

A safe market: Our experts will help you find the best place in town to open your laundromat. We have the know-how and the tools to make opening your own laundry easy.
Are you interested in opening a laundromat?