April 7, 2021 | Category : Last openings, Meet our investors, Premium Concept, Press Release, | Tags: Palencia (España)

Recently, we met Guillermo Castro. Guillermo is an entrepreneur and owner of 2 Speed Queen laundries in Palencia, Spain. He has answered some of our questions about speed Queen his laundry and his investment.
How would you define yourself professionally? How did you decide to start a business?
I consider myself a very hard-working person. After working in various sectors, I decided that the best thing was to work on my own, so I have been a freelancer since I was 20 years old.
What kind of entrepreneur are you?
I characterize myself for being a very creative and courageous person in the entrepreneurial aspect.
Do you have other businesses?
Yes, I have a business in the services sector for real state and b2b.
What are you looking for in your projects as an entrepreneur?
I try to find economic stability and, like every entrepreneur, maximum profitability from my business.
What business objective did you have?
My main objective was to invest in a secure business, and that could bring the best profitability in the short-medium term.
Why have you decided to open a laundry?
Being from Palencia and living relatively close to Santander, I have had the pleasure of being able to visit the city on numerous occasions. I have seen how the laundry market was booming and I thought I could replicate the concept in Palencia.
Why have you chosen Speed Queen?
Clearly due to the wide difference in quality and design compared to other laundries.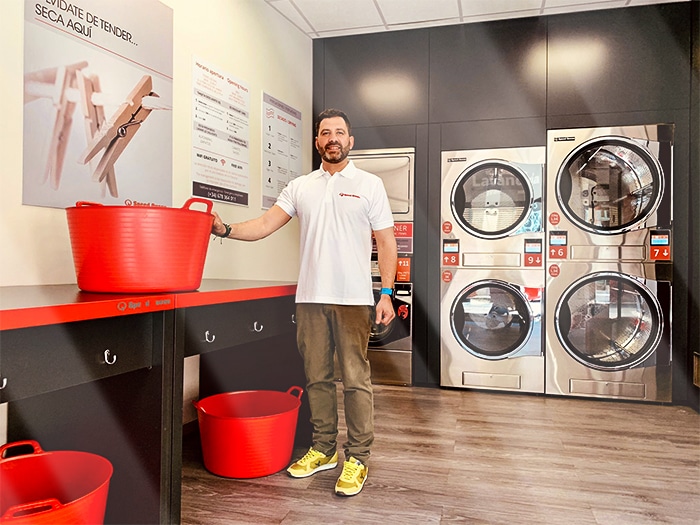 Guillermo, what are the key success factors to ramp up a laundromat?
The main key to success is choosing a good location and of course a high-quality, state-of-the-art equipment. Because at the end of the day it the most important part of the business you are investing in. If, in addition to that, you add good marketing and powerful design, you already place yourself in a very privileged place compared to the competition.
How do you see the future for your laundry?
I have blind faith in my investment. I bet we will see a constant increase in the use of the facilities since every day we have less time and we look at every last penny. Thanks to the large capacity of the machines, with Speed Queen, we reduce the time from doing several laundries a day to doing just one. In addition, you forget about having to tend and collect. A marvel!
Is technology a key factor for you? We are having great investors feedback about the Speed Queen App and the remote management dashboard. What do you think?
It is a convenience for the business since if you have an incident, you can solve it at the moment. You also have absolute control over your business.
If you want to know more about Guillermo's laundries, do not hesitate to click here:
And if instead you would like to join Guillermo and our more than 650 Speed Queen investors, feel free to contact us about how to open a Speed Queen laundry or how to revamp your old laundry.