September 22, 2017 | Category : Events, News, |
Speed Queen's first showroom in India!
The grand opening of the first Speed Queen showroom of India took place in Bangalore on August 19th. The entire Indian team from Alliance Laundry Systems and local dignitaries attended this successful event, hosted by Bajillion Labs (BJ Labs).
During the event…
Neil Ghadi – Alliance sales manager for India, Bhutan and Nepal – inaugurated the day presenting Alliance Laundry Systems, the largest group of laundry experts in the market, and Speed Queen, a century-old brand, committed to providing the best washing machine and tumble dryer for home.
Visitors could see several models of machines for the home segment, light commercial and commercial segment:
Stack washer and dryer (LTEE5)
Top load washer (AWNE92)
Front load washer (AFNE9)
Front control dryer (ADEE9)
Rear control dryer (ADEE9)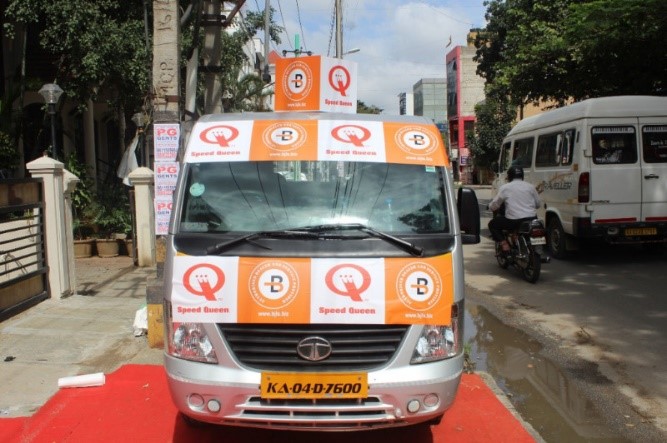 Turning the BJ Labs'delivery vehicle – a Tata-ACE – into a mobile laundry
About Speed Queen
Among the pioneering brands is Speed Queen, established in 1908 under the auspices of Joe Barlow and John Seeling. We have been manufactured washing machines for domestic and professional use for over 100 years. We use cutting-edge technology to create ecologically friendly machines, long lasting, able to cope with thousands of cycles without any maintenance.